Services
Our equipment consists of state of the art snack, beverage and food vending machines designed by leading manufacturers such as Crane, National Vendors, Dixie Narco, Vendo and Royal.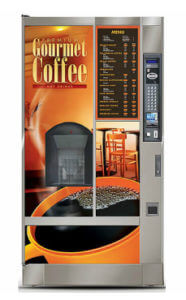 Our snack and coffee machines are equipped with the latest Sure-Vend guaranteed product delivery systems.
This unique infrared technology detects whether the vendor product has dropped, guaranteeing that our customers either receive the selected product selected, or the vending machine automatically returns the customer's money.
Enroute Vending Technology.
Enroute Vending is consistently testing new ways to improve customer service at the point-of-sale during vending machine transactions, including cashless payment systems such as credit and debit card readers.
Harnessing technology to enhance customer service.
As a technology pioneer in the vending industry, Enroute Vending invests significant financial and human capital into harnessing leading edge software and hardware systems that provide item-level merchandising.
Ensuring the products we deliver are the products your employees want.
From an item-level merchandising perspective, Enroute Vending utilizes this data to ensure desirable and popular selling products are stocked in each of its vending machines. Thus, a unique product "plan-o-gram" or customized menu program can be designed and implemented for each client.
Tracking products from the time they arrive in our facility through to the final point of sale.
Our handheld computers that monitor our vending machines link into our back office database which allows Enroute Vending to maintain "just in time" inventory levels in its distribution center, so our clients receive the freshest products available.
At any given moment, our operations managers have total visibility into our master distribution center and vending machine inventory. Inventory visibility equals better decisions, faster – which keeps our vending machines stocked with the freshest foods at their peak of flavour and, most importantly, our clients happy.